If you're like me, animals are an important part of your life. Studies have shown that interacting with pets can reduce tension, ease depression, boost positive chemicals in the brain, and even lower your blood pressure. Especially if you have a physical or mental disability, animals can be an amazing lifeline as you're adjusting to a difficult condition.
So why not make an animal part of your disability recovery? Service animals, emotional support animals, and therapy animals can all fulfill important roles, but a service animal in particular can help you perform daily tasks that your disability doesn't allow you to do.
Once you register your animal and get an official ID card, you'll be eligible for all the benefits of the Americans with Disabilities Act (ADA) that apply to support animals. Plus the process is pretty easy. Here are the three basic steps of getting your furry friend registered: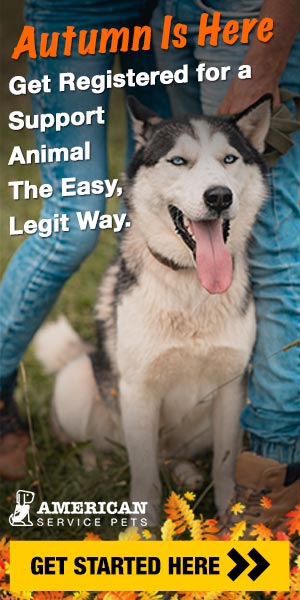 1. Adopt a support animal
Contrary to common belief, your support animal doesn't need formal training. Depending on your specific needs it can be helpful to talk to a dog trainer or a service animal specialist to find the animal for you. But the truth is that any breed or size of dog—or even other types of animals—can be trained to be the kind of service animal you need. So if you'd prefer to adopt a puppy and start training them on your own, that route is perfectly fine. Just keep in mind that well-behaved service animals will make your experience easier in the long run.
2. Register your animal online
This step is actually the easiest of all three. There are dozens of online registering services where you can enter your information and your pet's name and photo to get an official ID card in the mail. Be forewarned that many of these services cost money because they include a starter service animal package with your ID card, a vest, or tags. But there are also places that will register your animal for free. The website servicedogregistration.org is a great option for service animals, as well as its sister website esaregistration.org for registering emotional support animals. Take note that most ESA registrations require a note from your doctor.
3. Consider getting a vest or tags to make your animal look official
This step is optional since all you need to be protected by the ADA is your official registration card to show businesses and airlines. But making your dog look official will reduce the number of questions you'll get and the amount of explaining you'll have to do when you take your dog in public. If you feel so inclined, feel free to put a service vest, a harness, or special tags on your animal to make him or her look the part. And if you ever do get stopped for having your animal with you, keep in mind that legally people can only ask you two questions about your animal:
Is he or she a support animal?
What duties does your animal perform for you?
If you want to know more about support animals, stay tuned! I'm going to be writing more about them this summer, including the different types of animals and you and your animals' specific rights.