Did you know that today is National Dog Day? Every August 26, Americans everywhere celebrate the special dogs in their lives. And today we thought we'd celebrate the holiday by talking about service animals.
Animals can help those in need in many ways. A therapy dog is a companion animal that improves mental health by providing assistance to someone with a psychiatric disability, such as post traumatic stress disorder. But these trained dogs can be much more than just a comfort pet.
According to the ADA, a service animal is any animal that provides assistance to a person with a disability. Unlike an emotional support animal for PTSD, service animals also perform tasks to help their owner function normally. This can be anything from supporting them while they walk, retrieving items they drop, or even reminding them to take medication. Traditionally, when we think of a service animal we think of guide dogs for the blind, and for good reason. According to the National Organization on Disability, the vast majority of all services animals are dogs.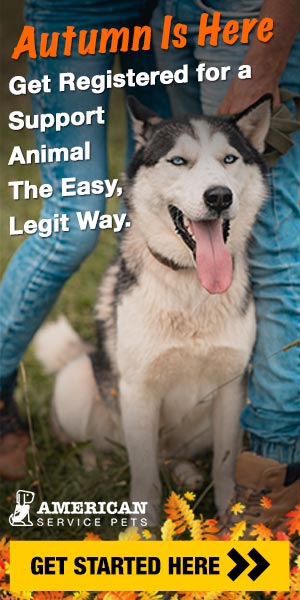 But there are actually all kinds of animals that assist people with disabilities. To give you an idea of the variety, here are six animals other than dogs that you probably had no idea could be an awesome service animal:
1. Miniature horses—This type of service animal has been on the rise in popularity since they're a great choice for someone with a mobility impairment who needs physical support to walk. Many people who are blind use a miniature horse instead of a guide dog, and there's actually an entire Guide Horse Foundation for this very purpose. Apparently the miniature horse is really good at its job. The species is naturally cautious, mild-mannered, and sharp-eyed, all of which make for a great assistance animal. And on top of all that, miniature horses can live for up to 30 years. That's five to seven times longer than your average service dog.
2. Ferrets—Another unlikely service animal, ferrets have the natural advantages of being easy-going, highly social, and easily transportable. Ferrets make great emotional support animals since they enjoy burrowing close to their owners, which can be extremely comforting to people needing emotional support. But ferrets make great service animals too. These critters are known for alerting their owners when they're about to experience a seizure, and ferrets can also be trained to wake someone up, remind their owner to take medication, and even interrupt harmful behaviors. Not bad, ferrets.
3. Boa Constrictors—This creature might not be the first animal you'd choose to keep in your home, but they actually make great service animals. These snakes are known for helping patients with bipolar disorder, obsessive compulsive disorder, and panic disorders, and there are even cases when these snakes can be used to prevent medical emergencies. One man in Washington has a friendly boa that will squeeze him more tightly when it senses he's about to have a seizure, giving him enough time to take his medication or go to a safer location until his seizure passes.
4. Parrots—This is a popular animal for treating psychiatric disorders, namely because many species of parrot have the ability to talk to their owners and deescalate them in stressful situations (something a psychiatric service dog can't do). A great example of this a man named Jim Eggers from St. Louis who relies on his service parrot, Sadie. The parrot has been trained to repeat the mantra, "It's OK, Jim. Calm down, Jim. You're all right, Jim. I'm here, Jim" to calm Jim down whenever she senses he's about to have a violent episode. Jim used to say the mantra to himself, but now with Sadie's help he can pre-empt episodes even before they start. Sadie is also trained to alert Jim when someone comes to the door and when he leaves the faucet running.
5. Potbelly pigs—Both highly intelligent and mild-mannered, potbellied pigs can be trained to do all the same functions as the traditional service dog. The only difference is that they're far cleaner than dogs and also don't shed as much. Sounds like a good bargain. Plus this particular species is known for being good with kids. Lois Brady from California takes her service pig Buttercup to schools to visit children on the autism spectrum. Since most children don't have any preconceived ideas about pigs, Brady has found that fewer students are afraid of Buttercup than of a big dog. The pig's gentle nature also come in handy when he encounters students with aggressive tendencies that would probably make a dog turn around and attack.
6. Capuchin Monkeys—Another very exotic service animal choice is the capuchin monkey. These little helpers are native to South America and weigh about 6 to 10 pounds. Capuchins are especially talented at grasping and retrieving, which makes them invaluable companions for quadriplegics and other disabilities that affect fine motor skills. These monkey can perform nearly any specific task: bringing water, fetching phones, performing basic chores, opening doors, and even feeding someone. There's an entire organization in Boston called Monkey Helpers that trains little capuchins to be the hands for people who can't use their own.
Want to read more about service animals? Check out our blog post on how to register a service animal.